REPORT'S AUTORS:
A resident-friendly city is a popular concept that can be challenging to implement, yet this is exactly what a smart city is all about. Not limited to a high-tech digitised environment, smart cities also provide clean air, comfortable housing, congestion-free roads and efficient utility services. Building a smart city is a challenge that requires residents' input as well as local government's efforts. Smart innovation can improve various aspects of urban life and reduce the burden on the environment (seeSmart City: Triumph of Innovation or Total Control?)
HSE researchers have come up with a ranked list of Russian cities which already have favourable conditions for smart urban development. The top twenty includes Moscow, St. Petersburg, Tomsk, Novosibirsk, Yekaterinburg, Nizhny Novgorod and a few smaller cities around Moscow, according to Ilina's paper "Technological Trends and Sustainability Policy within Energy and Transport in Russian cities" presented at the "Smart Cities: Energy and Transport" international seminar hosted by the HSE.
Advanced Cities Can Become Smart
The HSE researchers selected 146 Russian cities with over 100,000 residents, and examined each city using a comprehensive set of parameters, such as economy, urban planning, geography and terrain, finance, ecology, and others. They then combined these factors to produce an integrated indicator reflecting each city's smart development potential (Table 1). Unsurprisingly, Moscow and St. Petersburg topped the list as centres of science and innovation with high intellectual potential. Ilina adds that, "The governments of both cities are interested in piloting smart development models."
Most cities on the top list are in European Russia, which is more densely populated and thus has more human resources available; a few cities with a high smart development potential are located in Russia's Asian part.
Many cities on the list are home to major universities, including Tomsk, Novosibirsk, Nizhny Novgorod and Yekaterinburg, and others include the so-called 'science cities', such as Zhukovsky and Korolev, and cities around Moscow, such as Podolsk, Krasnogorsk, Khimki, Lyubertsy, and Shchyolkovo.
Table 1. Russian cities' smart development potential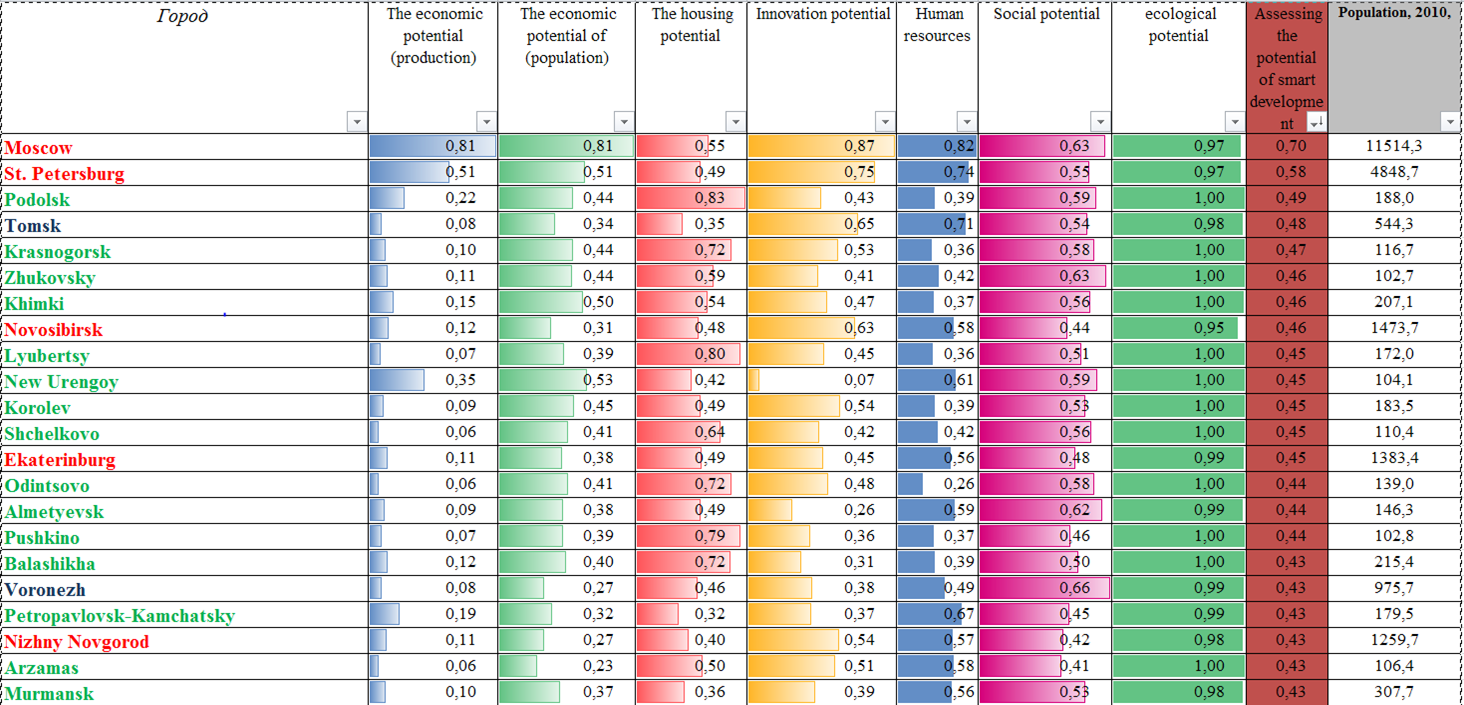 Source: Ilina's presentation. 
Smart City Solutions Already Implemented
A number of smart city solutions have been developed worldwide, including 'smart home' automated systems capable of monitoring home environments to detect and respond to any adverse changes. Also available is more basic technology, such as smart meters giving residents more control over their water and energy consumption. According to Ilina, smart energy consumption is particularly relevant for Russia given its climate, as are intelligent transportation systems facilitating smarter use of transport networks and traffic management, e.g. using sensors to track traffic speed and density.
Yet another trailblazing solution is intelligent street lighting: in Glasgow, movement sensors monitor footfall and turn on lighting when there are people in the street. Waste collection is also an area of innovation: in Barcelona, smart waste containers and bins transmit their current level of usage, indicating when they need to be emptied, so that waste collecting vehicles only travel to those which are full. In Boston, a mobile application helps identify road surface anomalies.  
Smart urban development solutions have been implemented in big cities such as New York, Tokyo, Shanghai, Seoul, Vienna, Amsterdam and Dubai. In Russia, smart city concepts have been introduced in the Moscow metropolitan area (Skolkovo), the Republic of Tatarstan (Kazan Smart City, a new neighbourhood in the Republic's capital, and Innopolis), Krasnodar Region (the Olympic cluster in Sochi), and in Leningrad and Ulyanovsk Regions. Most of the above smart city projects are still in a pilot stage and face many barriers to effective scale-up. Ilina describes some of such barriers in the Russian context.
Why Innovations Take So Long to Scale Up
The lack of finance is a major obstacle: smart city solutions require substantial initial investment, but municipal and regional authorities have limited budgets.

Municipal authorities often face other, far more pressing needs. Having interviewed the mayors of a few Russian cities, HSE researchers have found that although most mayors are familiar with the concept, they tend to think of smart cities as an abstraction, "Nice model, but it's not suitable for us." According to some mayors, the entire concept is a marketing ploy by technology manufacturers. So most Russian mayors are in no hurry to jump on the smart city bandwagon. "We are facing a host of other problems, like repairing the water supply and heating systems for the winter," Ilina quotes one of them as saying.

In addition to this, some municipal authorities have little interest in long-term investment and in taking the risks often associated with innovation. According to Ilina, "It is not yet possible to name any particular city as having successfully integrated all elements of smart urban development."
October 26, 2016
---