In the run-up to Youth Day, IQ.HSE studied the results of an all-Russian survey by the Centre for Studies of Civil Society and the Nonprofit Sector. Sociologists studied the role of young people in charity and volunteering. What do they sacrifice for the sake of their neighbours — and are they prepared to do it in general? For those who think that young people have their heads in the clouds, the answers will be unexpected.
They can unite
The survey was conducted in December 2021 as part of the regular Monitoring the Status of Civil Society. The data was collected from face-to-face interviews with more than 2,000 Russian residents aged 18 and over.
The young audience of the study includes two age groups: 18–24 and 25–35. They were compared both with each other and together with older groups.
The results turned out to be non-stereotypical, without a focus on personal issues and inattention to others.
80% of the respondents aged 18–24 considered themselves ready to unite with others for joint activities.
Approximately the same number was observed in the second group, which is more than in the adult group (according to Russian law, 'young people' are those aged 14–35 inclusive).
They don't put their interests first
Young people have a stronger desire to engage in volunteerism. The same group of 18–24-year-olds set the tone: almost two-thirds of them don't mind donating their personal finances and time.
Charity organisations are the most popular in this age group. Young Russians are twice as likely to want to become volunteers, and one in four is willing to help with money. At the same time, there are significantly fewer of those who seek to work essentially for their own benefit, that is, in associations that defend the interests and rights of young people.
The potential of youth participation in volunteering and charity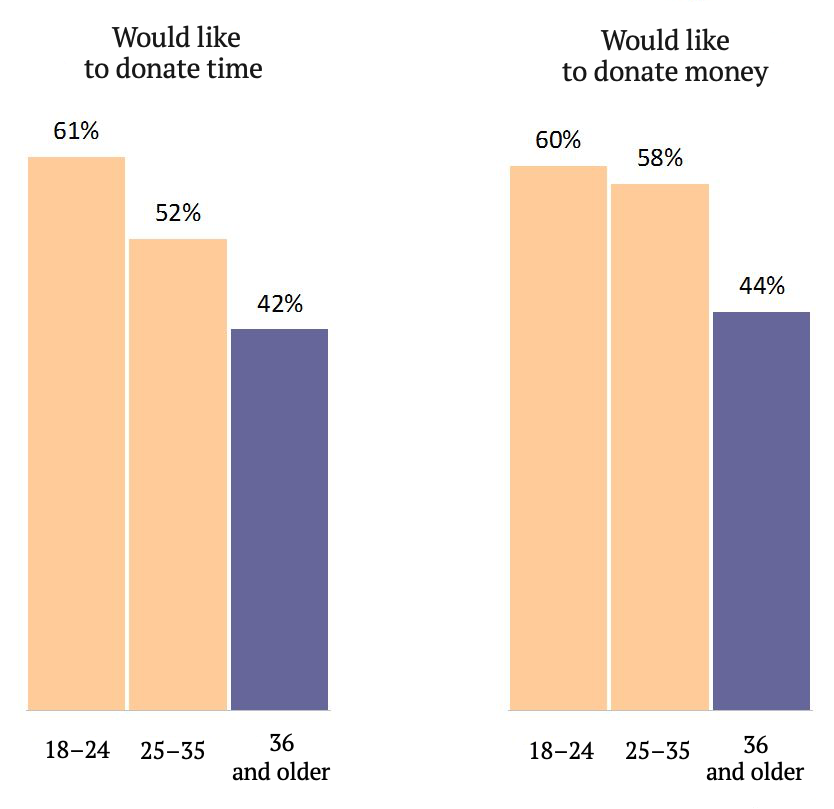 Source: the Centre for Studies of Civil Society and the Nonprofit Sector
The opportunity to become a volunteer in an informal youth association primarily interests the youngest respondents. Among those aged 18 to 24, such NGOs take seventh place (out of 26) in popularity, while various student or school self-government bodies come in at sixth place. But after the age of 24, interests change: non-political youth associations move to twentieth place, giving way to many other NGOs: trade unions, women's organisations, garden and dacha associations, parent initiatives, political youth associations. This shows that young people are certainly interested in protecting their rights and interests, but that this desire transforms over time. Very young Russians are more often ready to unite simply due to being the same age, while older respondents value more specific tasks that an organisation solves.
Volunteer identity
Young people are better informed about NGOs and public initiatives and trust them more. The level of trust is relatively low (about 50%), but is even lower among 'adults'.
According to the share of those engaged in volunteering (27%), young people are also in the lead. 18–35-year-olds are more confident in considering themselves volunteers and more often think that others (relatives, acquaintances) see them as volunteers.
Volunteer self-identification among youth
Answer to the question 'Do you personally consider yourself a volunteer?' (% of respondents)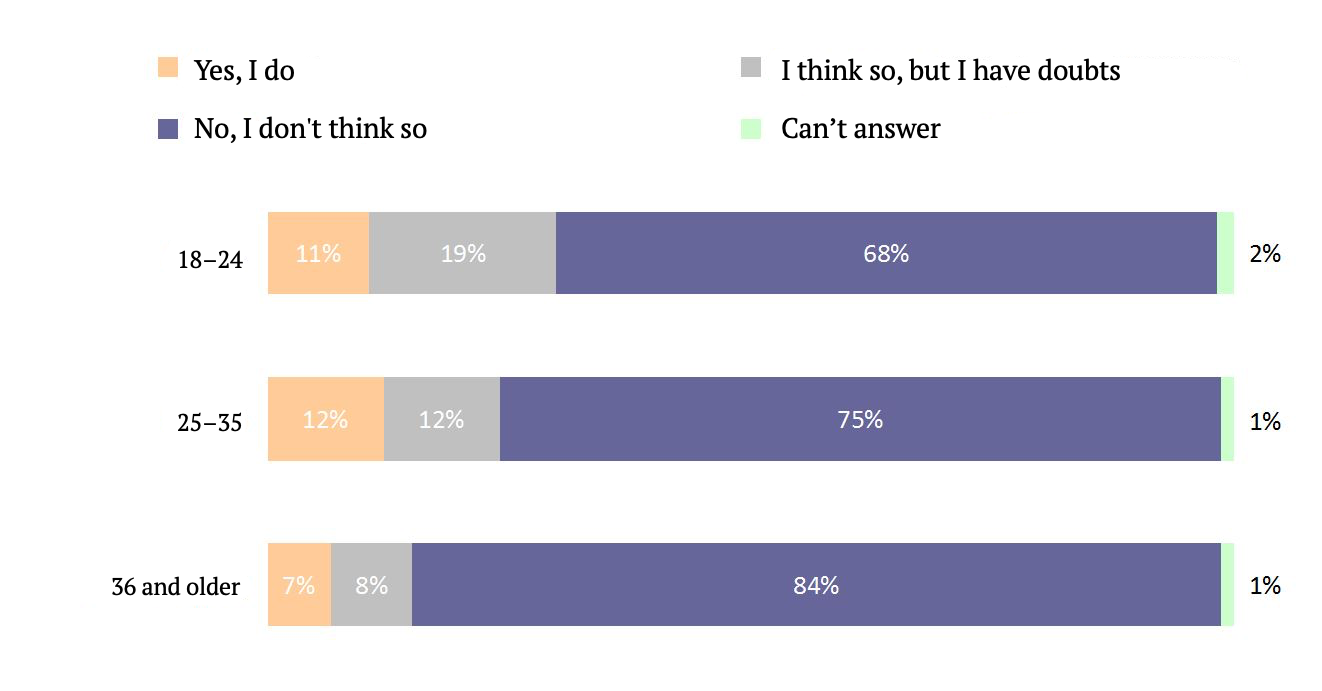 Source: the Centre for Studies of Civil Society and the Nonprofit Sector
In Russia, the gap between those who consider themselves volunteers and those who can actually be referred to as volunteers is quite large. This is a significant problem — it indicates the underdevelopment of volunteering culture, that people do not fully realise what it means to be a volunteer in general. Nevertheless, the data demonstrates a positive trend: among young people, the gap is minimal, almost minimised. In addition, young Russians identify themselves as volunteers more distinctly — a higher percentage of them, even if they have not been engaged in volunteer work recently, are still ready to say: 'Yes, I consider myself a volunteer.' For them, it's not a situational phenomenon, but a part of their own "self" and, most likely, these respondents will later return to volunteer work.
They organise to make decisions
Almost 70% of young Russians believe that volunteerism is a real force capable of solving social problems. So far, according to the majority of respondents, its contribution is not great. The youngest (the 18–24 group) are more critical than the rest: 64% of them rated the situation as 'satisfactory' or 'bad'.
They most likely want to fix it themselves — and can do so. The survey showed their readiness for organised volunteering, with one in four working for free in initiative groups.
Youth participation in organised volunteering
Answer to the question 'When you were engaged in volunteering, who was the initiator and organiser of this activity?' (% of volunteers)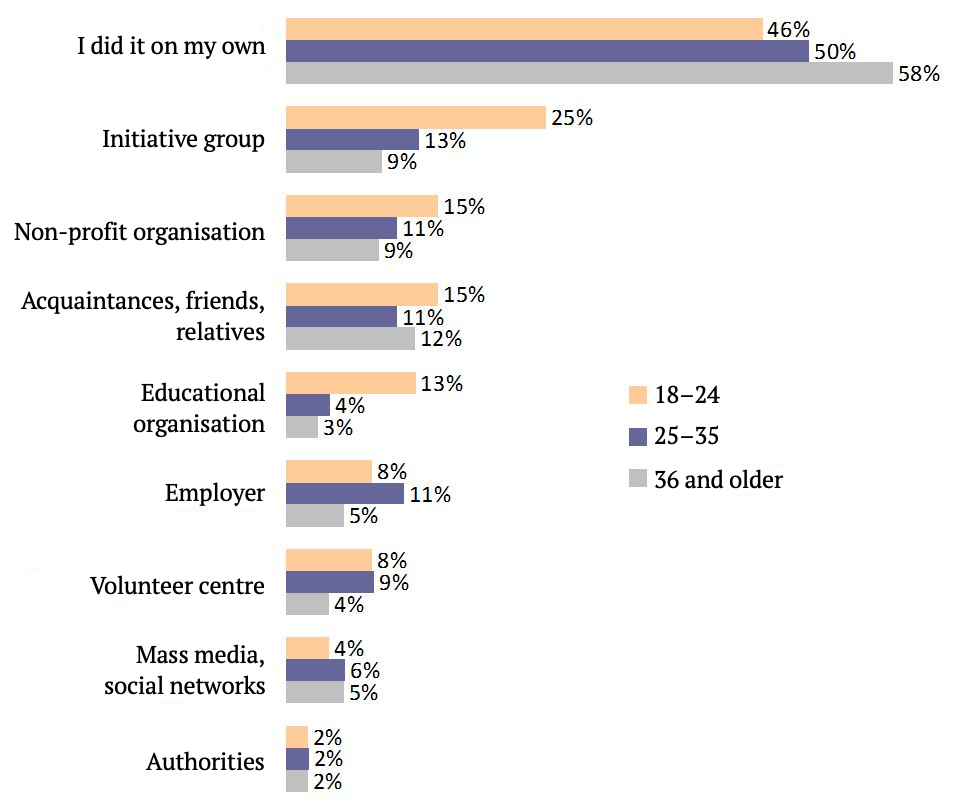 Source: the Centre for Studies of Civil Society and the Nonprofit Sector
The 2020–2021 period was difficult both for the country as a whole and for volunteers in particular. Interestingly, the number of young volunteers (and volunteers in general) did not change significantly during this time, but certain shifts in public consciousness did occur. They concerned, first of all, the youngest Russians, those most flexible and sensitive to changes. In a year, the share of respondents aged 18–24 who had a desire to become a volunteer in a non-profit organisation increased from 47% to 61%, and the percentage of those who considered themselves volunteers also increased from 22% to 30%. Social consolidation during the pandemic and more active coverage of various volunteer actions and initiatives in the media is likely to have affected the result.  Therefore, now it is important to support young people in their desire to help others, so that this temporary rise in volunteer potential, firstly, turns into a steady trend, and secondly, results in a real increase in volunteer activity.
---