This year, Russia's largest science and technology festival, Geek Picnic, was held online for the first time. Despite the new format, the festival programme included all of the event's usual key features: expert lectures, workshops, competitions, and opportunities to socialize and network with fellow tech and science enthusiasts. HSE University once again served as the festival's content partner.
Prior the pandemic, the festival organizers agreed that this year's festival theme would be 'Multi-Universe'—events would focus on the idea of other worlds and parallel realities. Since the pandemic forced us to move to another reality—a virtual one—the topic turned out to be more relevant than ever. And while the invited speakers, such as astrophysicist Elizabeth Tasker, talked about planetary colonization, Vladislav Terekhovich, Associate Professor at the HSE School of Philosophy, discussed why people believe in parallel realities to begin with.
Vladislav Terekhovich, Associate Professor at the HSE School of Philosophy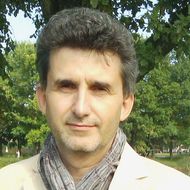 Philosophy has two perspectives on the nature of the laws of physics. The first says that all existing worlds follow these laws. And the second says that laws don't rule worlds, but describe them; that the laws of physics are a convenient model that structures our perception.
HSE University presented its own lecture programme at its virtual stand. Graduates of HSE University's international Master's programme in Prototyping Future Cities presented their projects aimed at changing urban practices. And leaders of laboratories at the Faculty of Computer Science talked about how to teach and apply neural networks.
The World within a Byte
Everything, from a cell in a living organism, to a building block in Minecraft, may consist of zeros and ones. And to enable the zeros and ones to exist and make independent decisions, they need experts who understand how to teach neural networks.
Specially for those who are interested in this field, Research Professor Dmitry Vetrov, Head of Samsung-HSE Laboratory, spoke about the appearance of the loss function in deep neural networks. He looked at some interesting effects of the function and emphasized some advantages of the use of neural network ensembles
Dmitry Vetrov, Research Professor at HSE University
It is probably impossible to completely exclude errors. But I believe we will be able to increase the reliability of neural networks to at least that of contemporary technology.
In her lecture, Maria Poptsova, Head of the Laboratory of Bioinformatics, revealed some secrets of the joint existence of genetics and IT and shared a brief story of bioinformatics. The stand's visitors learned how genomics gets its big data, how artificial intelligence competes with biological intelligence, and how many gigabytes the human genome weighs.
Maria Poptsova, Head of Laboratory of Bioinformatics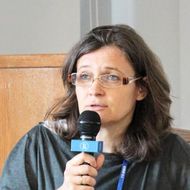 It is much more expensive to print a human genome today than to sequence it. A fully printed human genome would take 130 volumes of double-sided pages, 43,000 characters each.
Start with Yourself and Change the City
Pablo Goldin, architect, curator of the international 2019 Shenzhen Biennale of Urbanism\Architecture, presented his project on risk and opportunity analysis of 5G technology implementation. This new standard of mobile communications is aimed at expanding the capabilities of internet access via wireless networks. Pablo conducted a study in the Biyulevo Zapadnoe district of Moscow and Bolshaya Tikhaya village, in the Soloneshnoe district of Altai Krai. For the study, he and his colleagues created a telecommunication company that allowed people in these regions to invest in an autonomous technology of 5G mobile communications and expand it. The experiment demonstrated that the development of independent telepresence may promote the decentralization of regions and the socio-economic advancement of rural areas. 'In the digital economy, small economic models must become part of the urban "metabolism",' Pablo Goldin said. 'It may help suburban and rural areas become independent of the urban agglomeration and become more effective at the same time.'
Valeria Cherekaeva presented her prototype of a mobile app that aims to help improve the urban environment for people with limited mobility. Contemporary Russian cities inherited the Soviet concepts of urban development, which ignored the needs of people with limited mobility. The researcher collected the data on existing obstacles in the city and created an interactive app with a map that will help people with limited mobility navigate in the city. According to the guests of the virtual mount, this map will also be useful to bicyclists and parents with strollers, bringing together different people for the joint task of developing the urban environment.
Andrés Gómez's prototype may become a best-seller among Russian urban residents who dream of growing a garden on their balcony (we must admit that there are a lot of them). He decided to bring together the technologies of agriculture and crowdfunding, and developed an automated system for growing vegetables and greens in urban apartment blocks. Thanks to this technology, a large apartment building will be able to provide high-quality fresh products to its residents, and prevent problems with agricultural product supplies in a big city
Meta HSE
Quite expectedly, games were another topic that was actively discussed at the festival. Video and online games have become an important part of life in self-isolation for many. Oleg Dobroshtan, Director for Learning and Development at 101XP, lecturer at HSE Higher School of Business Informatics, spoke about some positive moments that a healthy affection to games may bring. And Anton Artemchuk, together with the team of HSE Minecraft went further and organized a broadcast of Anton's lecture from a virtual version of the atrium in HSE's Pokrovka complex. The experiment was a double success: Artem also demonstrated a technology in practice that helps people maintain social distance during these trying pandemic times. The recording of his lecture is available on the official VK Geek Picnic page.
June 30, 2020
---