Coursera: 'Over 70% of Those Who Enrol in HSE's Online Courses Are Outside of Russia'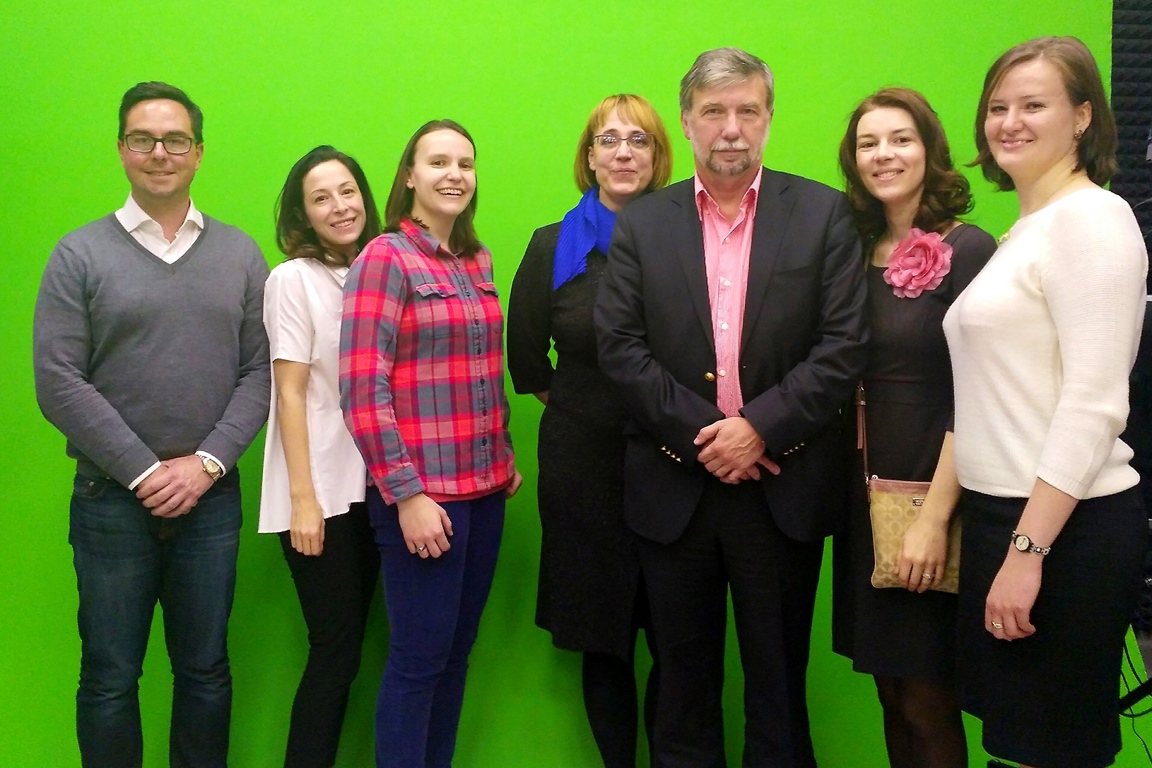 A team of specialists from the educational platform Coursera visited the Higher School of Economics for the first time ever this April. The group was made up of Coursera's Regional Manager Inessa Roman-Pogorzhelskaya, Content Partnerships Manager Nathan Hite, and Teaching & Learning Specialist Alexandra Urban, and during their time at the university they met with HSE Vice Rector Sergey Roshchin, Online Learning Director Evgeny Kulik, and staff from the eLearning Office. The two teams discussed Coursera's development strategy, as well as HSE's future cooperation with the online platform.
After the meeting, Coursera Regional Manager Inessa Roman-Pogorzhelskaya talked about how the online learning tool works with HSE and with Russian universities as a whole. She talked about some of the most successful examples of past collaboration and gave a few pieces of advice on how to make courses more popular.
— What are your impressions from working with Russian universities, and what can you say about your collaboration with the Higher School of Economics?
— Firstly, as for our overall work with Russian universities, we are very impressed with their level of activity in the online education field, as well as with the speed with which content is produced and placed on Coursera. As a result of this high activity, we now have 131 online courses taught by Russian universities. A year ago, this figure was 44, meaning there was almost a threefold increase. 
And as for HSE, the university is without a question our leading partner in Russia and one of our first. HSE has the highest number of courses among Russian universities, with 53 active courses and three specialisations [a specialisation is a set of consecutive courses with a practical element] in both Russian and English. These courses' ratings are also very high, the average being 4.6 out of 5.0. These are great results. I also know that HSE uses online classes for its onsite students and gives students the opportunity to include them in their academic plans. This is very progressive. Overall, I think something really important in HSE's activities is the fact that the university is promoting the topic of innovative education and online education in Russia as a whole. HSE shares its best practices and creates communities around this topic.
I should also note HSE's flexibility and readiness to experiment. Coursera, like technology as a whole, often goes through certain stages of change and evolution, and universities are not always quick to react to this and are not always open. But HSE is a partner that has always cooperated in the field of innovation. In addition, HSE has interesting experiences working with foreign universities, those like the University of California San Diego (UCSD). HSE and UCSD have a joint specialisation, the Data Structures and Algorithms specialization, and it has been very successful. As a result, HSE has had great results on Coursera. HSE also has really good enrolment numbers on Coursera, and as you know, the school is now approaching 1 million Coursera registrations. This is an outstanding figure even for our global partners.
It is also really important for our students to be able to find courses in different fields. We see a large interest in practice-oriented topics and areas that are useful in your career, but we also have a large audience that takes online courses just for the sake of general development. In its courses, HSE attracts both audiences. For those more interested in professional development, there are courses like Financial Markets and Institutions or the algorithm specialisation. And for those who just want to learn something new, there are courses in philosophy. HSE also has courses in core disciplines like mathematics and economics.
— How popular are courses offered by Russian universities on Coursera, and can you give some examples of past successes?
— According to recent data, only 40% of the people who take courses offered by Russian universities on Coursera actually live in Russia. A large number of people live in other countries. The majority are of course neighbours – CIS countries – but nonetheless. I looked at the same data for HSE, and over 70% of users in 2016 were located outside of Russia.
We of course understand that if a course is taught in Russian, then it mostly captures an audience in Russia, the CIS, and countries with large Russian-speaking populations, like the U.S. and Germany. If a course is taught in English, then it is quite likely that students in countries like India and the U.S. will be interested.
HSE has a very popular course on neuroscience taught by Vasily Klucharev in English. This is a great example of a very international audience, as a large percentage of students are from the U.S., India, Russia, Mexico, Great Britain, Brazil, and China; it has the full range really. 
— How can Russian universities improve their presence on Coursera and become even more popular?
— One thing is to offer courses in English, because the Russian-language segment of Coursera only makes up 3%-4% of all students. In order to make a course more popular – and this concerns those taught in both Russian and English – it's important for the courses to be practice-oriented and for the topics of the course to focus on what is in demand on the labour market currently. We are seeing that our core audience consists of individuals who have a higher education, work, and often need to gain certain skills that they were never taught when they were students. This mostly concerns technology, computer science, data science, business – that is, the fields that are most actively developing. It is this audience that must keep such demands in mind.
It's also really important for a course to be adapted for the online learning format. What does this mean? It means that videos should be relatively short, ideally between four and seven minutes. The workload should be less than five hours a week, and students should be able to get feedback instantaneously so they can put their knowledge into practice. There have to be very clear learning goals and very clear results. In addition, it's important for the student to be able to complete a certain project and have a type of 'artefact' at the end that they can show their employer or potential employer. These recommendations will help Russian universities, and any university really, become more successful in the online learning space.
— How do you view future collaboration with Russian universities, and in what fields could their activities on Coursera develop further?
— We are certainly looking forward to further expanding our cooperation with Russian universities. Firstly, I think more career-oriented courses should be created. There is a high demand for this, and if you look at our Russian-language catalogue, many fields are not covered at all. The second thing we see a high demand for is specialisations. There are a few specialisations offered by Russian universities, but we would like to boost this number. I also see a bright future for universities that partner with the industry – that is, when a university finds a good company to partner with and together they create a type of joint course. Again, I think this helps get courses more in line with real, professional objectives.
April 18, 2017
---