The new institute is headed by Vasily Klucharev, a professor at the Higher School of Economics, who previously worked as Head of the School of Psychology. Vasily Klucharev told the HSE news team about what the School managed to achieve in four years, what the new institute will do and how attitudes towards psychology and neuroscience are changing.
Results: Technology and the English Language
I came to Moscow four years ago from Switzerland, where I had been teaching at the University of Basel. My task was to make some changes to the School of Psychology, which was at that time still a faculty. As a team, we managed to achieve a lot, so I'm now starting at the new institute in a good frame of mind.
When I arrived at HSE, I immediately told my new colleagues that the decision to appoint a neuroscientist as the head of the School of Psychology was rather unusual for Russia. However, it's quite common in Western Europe and North America. For example, at Cambridge, the Department of Psychology, where they study the brain, is part of the School of the Biological Sciences. So at HSE, we underwent a sort of reform.
Over time, the school began to focus on a scientific discipline referred to as 'cognitive science' – the study of the principles of perception of information by human beings. More recently, we have seen the development of 'cognitive neuroscience', that is, the study of the principles of information processing by our brain. We founded the Centre for Cognition and Decision Making, a large international English-language centre for brain research, unique in Russia, boasting many employees from abroad and an excellent array of equipment, which will only continue to get bigger in the coming years.
It must be said that developing neuroscience was not the only priority for our team. For example, over the four years, our Master's programme changed dramatically, several programmes became English-taught, some programmes were allocated to different study tracks, and we created several new programmes: a Russian-taught programme, 'Psychoanalysis and Psychotherapy', and two English-taught Master programmes – 'Applied Social Psychology' (in collaboration with the Tilburg University) and 'Cognitive Sciences and Technology: from Neuron to Cognition' in collaboration with the École Normale Supérieure (Paris). In my opinion, HSE boasts the strongest Master's programme in psychology in Russia, in terms of competition, reputation, and quality of teachers. In fact, I wish I could enroll in it myself, because when I was a student, such programmes didn't even exist!
There are studies that prove that if you show a picture of a brain in a presentation, your audience is more likely to believe you and consider your report to be scientific
Well-developed laboratories that were founded before my arrival, for example, the International Laboratory for Socio-Cultural Research, under the leadership of Nadezhda Lebedeva, is now recognized as a national leader in cross-cultural research. We have also opened the International Laboratory of Positive Psychology of Personality and Motivation, under the guidance of the outstanding Dmitry Leontiev, Professor at HSE, and Ken Sheldon, a visiting professor from the University of Missouri (USA), where scientists research, to put it plainly, the psychology of happiness.
We now also teach a class for students at HSE Lyceum in 'Psychology'. They spend their faculty day with us and many of our teachers teach there, including me. I enjoy lecturing them and explaining new directions in psychology. The first graduation will take place this year, but its a longitudinal process-  we'll see the benefits in the future. We plan to develop an education programme and we'll observe the extent to which students at the Lyceum are interested, and how many will come to us to continue studying.
If you look at the publication activity in Scopus in the field of Psychology, you see that last year, we became the national leader in publications in Russia. We have an important goal ahead of us - to be accepted into the international community. Some of our competitors have a long history of outstanding scientists, they are well-known and referred to in textbooks. We are a relatively new centre and we will have to work hard to convert our research and ideas into an international reputation.
Thanks to our work at HSE, publication activity increased- lectures were held at VDNKh, a series of lectures in ZiL, and even at the Moscow zoo! This resulted in a large number of interviews and television programs, a TV show, and even a documentary entitled, 'The Brain. The Second Universe', in which we played an active role.
How Are Attitudes Towards Neuroscience Changing?
When you create new programmes and a new research centre, professionals hear about it very quickly - they are the first to react to good scientific publications and they understand the importance of modern equipment. It is more difficult to reach high school leavers and their parents, because there are a lot of outdated views that we have to contend with. I was recently invited to talk about changes in the profession in the HR department of a very large company. I started off by asking the question, 'What is a modern psychologist?' One answer was that it is a school psychologist. When I began to talk about brain research, cognitive science and positive psychology, it became clear that many people don't know anything about it.
It's wonderful that, this summer, our first year students had the highest entry scores in the country. A modern psychologist should know about neurobiology, programming, computer science, genetics, economics and much more. All this is now taught HSE.
We have some very interesting Master's students. Of course, we tend to give preference to psychologists and biologists, but we are always ready to meet candidates who are coming in from other fields. For this very reason, our programme is one of the most interdisciplinary: mathematicians, physicists, and even lawyers, are currently studying with us.
We are currently experiencing, across the world, a certain 'neuromania'. The brain is a mysterious topic that many people are fascinated by. There are studies that prove that if you show a picture of a brain in a presentation, your audience is more likely to believe you and consider your report to be scientific.
What Will the New Institute Bring?
I left my position as Head of the School of Psychology and became Director of the Institute for Cognitive Neuroscience. Professor Yury Shtyrov was named scientific director of the institute. Yury is one of the world's leading experts in the study of the neurobiological mechanisms of speech. He also heads a laboratory at Aarhus Universitet in Denmark and is working on his own research in Moscow.
For the time being, the institute is split into two divisions - the Centre for Cognition and Decision Making and the International Laboratory of Bioelectric Interfaces, which was developed with the help of a mega-grant. Visiting researcher, Mikhail Lebedev, from Duke University, was named co-director of the laboratory. He is one of the leading experts in neuroscience and neurotechnology, principally working on new technologies to pair brains with computers. The laboratory will focus on creating a brain-computer interface that will decipher information from the brain, as well as enter information into the brain. This is extremely exciting research at the intersection of biology and technology!
We are working on a technology for paralyzed patients, which will enable them to use prosthetic arms
HSE has founded some of the most modern laboratories in Russia but we are not going to stop there. We constantly update our equipment and invite specialists in the field of neuroscience. At HSE, numerous faculties are interested in the brain and the cognitive sciences. The new institute will become an interdisciplinary and inter-faculty centre, a hub for mathematicians to come with their calculations and algorithms, for economists with their questions about economic decisions (about HSE's Laboratory for Experimental and Behavioural Economics, which works closely with the Centre for Cognition and Decision Making and whose research has been written about on the HSE website), and for urbanists, who are interested in how a person perceives the environment. It will be a new stage in the development of brain research at HSE. One of the main foci of the Institute will be the creation of new technologies. We are already working on a technology for paralyzed patients, which will enable them to use prosthetic arms. I strongly believe that, in a few years, we will have created a world-class research centre.
The Head of the School of Psychology is Maria Falikman. As a scientist and cognitive psychologist, she studies the principles of human perception of information using modern psychology. Maria is a pioneer of cognitive psychology in Russia. She does a lot to popularize science and her lectures can be found on various websites, including 'Post Science' (Russian: Постнаука).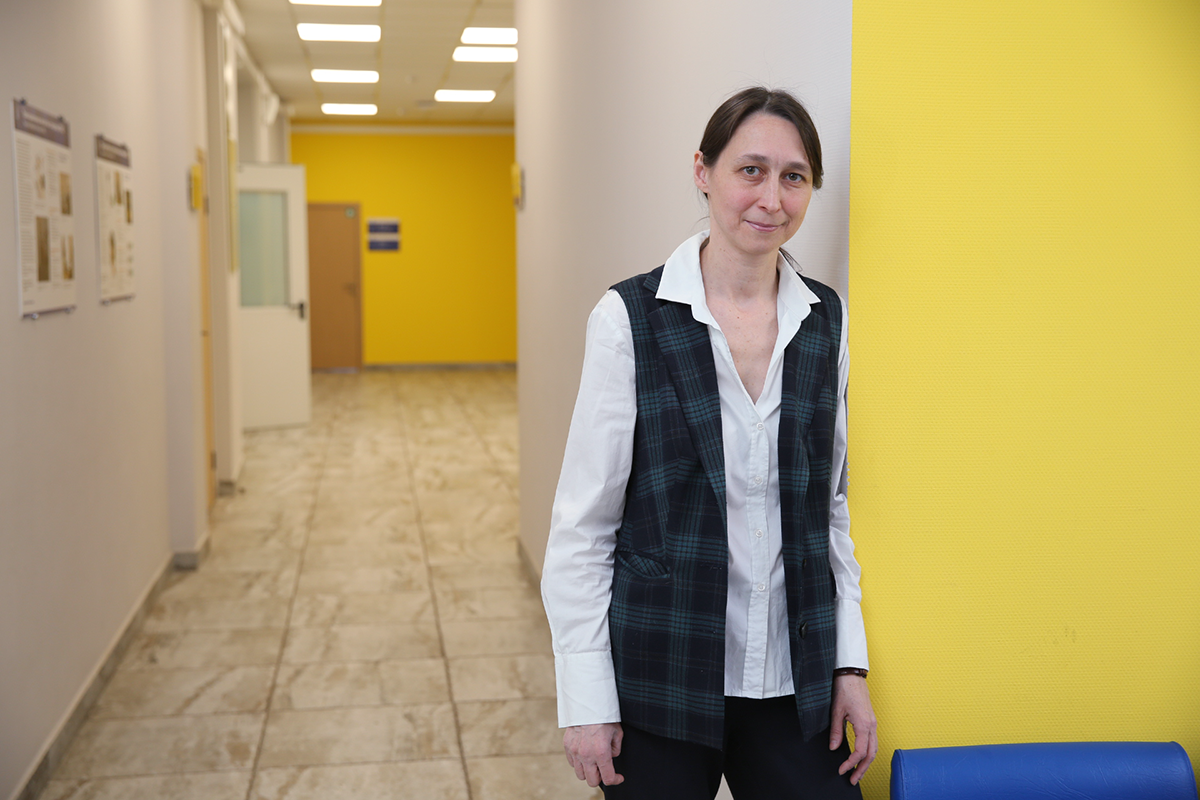 Maria Falikman, Head of the School of Psychology/ © Мikhail Dmitriev
Head of HSE's School of Psychology, Maria Falikman, on Future Plans
Psychology and neuroscience are areas which are very close and they interact with each other. They are part of the so-called 'cognitive polygon' (the field of research that deals with human cognition). It is possible to say that psychology and neuroscience intersect, but the subjects of research are different. Psychology studies patterns in how the psyche is arranged, how it works, and how the human intellect and memory develop. Neuroscience investigates the brain's role in cognitive processes and answers questions about how it works and develops. Molecular genetics now plays a very important role, even though, technically, it is unrelated to neuroscience. Neurogenetics is an interdisciplinary field which involves specialists from numerous fields- psychologists with their behavioral data, neurobiologists with data on the brain, and molecular geneticists with their genome sequencing methods.
In addition to the fundamental science of psychology, which deals with the problems of cognition, motivation, emotions, individual differences, abilities, character, mental development and group interaction, there is also a large field of applied psychology that involves applying this fundamental knowledge in order to solve problems associated with various areas of human practice. There is also a psychological practice that no longer answers scientific questions, but solves specific patient problems and deals with diagnostics and correction. What's more, the patient could be a baby or a multinational corporation.
It is important to mention that the School of Psychology, which provides fundamental training, simultaneously produces graduates who are extremely capable of applying their knowledge in practical situations. The Bachelor's degree includes three areas of pre-training: fundamental-cognitive, consultation, and social-organizational. I believe that there is not enough pre-training in the field of psychology in education, because such specialists are highly sought-after, and not only as school psychologists. The idea of life-long education is becoming more popular, but few people understand what's behind it. We hope that, together with HSE's Institute of Education, we'll be able to do something about this.
Another aspect which we are unsure how to implement, but which is most definitely needed, is a Bachelor's degree in clinical psychology. This is a complex issue, but it is something that I believe we can work towards, especially as there is interest from colleagues and an obvious demand on the market.
There are currently are two main areas of development in the School of Psychology which I am working on. The most important thing for me is the development of scientific laboratories, because there are a number of employees in the School who work together, and they are surrounded by students, but this cooperation is not part of a structure. We could have assumed that everyone who wanted to be involved in a laboratory already was, but it turned out that this was not the case, and my proposal to create new laboratories was received with great enthusiasm.
We are currently working on projects for several laboratories. For example, the laboratory for psychodiagnostics and the laboratory for user behavior - this is often referred to as 'usability', that is, research into human interaction with technical device interfaces, as well as the evaluation and testing of interfaces. This is an important focus, because there are currently no such university research laboratories in Russia. Large companies have their own internal laboratories, such as Sberbank, Alfa Bank, Mail.Ru Group and Megafon, and they solve problems within the companies. There are also usability companies on the market, but there is a dearth of qualified employees, because universities do not train students to work in this area. We have several other laboratory projects in the pipeline as well. We are waiting for the next call for proposals for the creation of laboratories at HSE, and then we'll apply.
We have already founded a group for psychological counselling in business, which is a promising project in the field of applied psychology and will perhaps become a centre one day. I think that the School of Psychology is capable of establishing a centre at HSE which offers psychological support for the local population. Another focus which is very important to me, and which I am trying to encourage staff to get involved in, is the reliable popularization of psychology. In actual fact, this is not going badly at all. For example, the 'Post-Science' website publishes contributions by employees from the School of Psychology more often than people from anywhere else. We work with various other resources, including a new resource for conscious learning entitled, 'What Needed To be Proved' (Russian: Что и требовалось доказать). Several projects by the School's employees have already been published on it.
Another important focus is the development of the Master's degree. We are currently discussing several joint Master's programmes with other departments of the Faculty of Social Sciences at HSE. I know that we won't have the fundamental programmes, because the master's programme 'Cognitive sciences and technology: from neuron to cognition', which I helped to develop when I started working at the Laboratory for Cognitive Research, has now moved to the new Institute for Cognitive Neuroscience. This programme provides a more neurobiological, and, I would even say, neurotechnological training. That is, it trains not psychologists, but researchers in the field of modern neuroscience, and focuses on the latest methods of recording brain activity and the influences on it. We, for our part, will have to think about what we can create within the School in its place, but this is not an immediate priority.
March 16, 2018
---